Of all the things that I buy on Fiverr, content is typically not one of them unless I need a high volume. The content isn't typically up to my standards and I have writers who I can pay $15 and they are excellent writers with college degrees and excel at crafting proper content.
With Fiverr, sometimes you need to remember that you get what you pay for. With that said, here are a few writers that will write a press release for $5.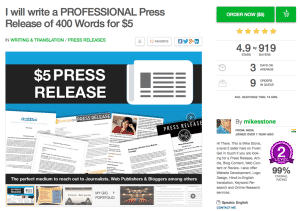 Mike Stone also offers affordable press release writing services. Currently he has 4.9 stars over 919 ratings. That is a great rating and a lot of total sales in this category. He is the #1 choice because of the reviews, great ratings and volume. Click here to order directly from Mike Stone.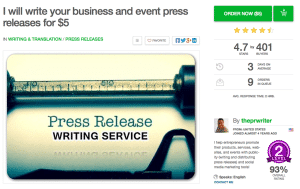 The PR Writer has 4.7 stars over 401 articles. Those are fantastic numbers and people clearly like him! Click here to order a press release. The TAT (turn around time) is about 3 days which is good. With 9 orders in the queue right now, I would expect your order to take the full 3 days. The PR Writer has a focus on business and event press release packages, something to keep in mind if you're promoting an event rather than a company. Click here to order a press release from the PR Writer.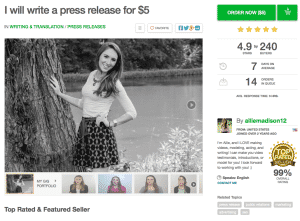 Allie Madison has a lot of great gigs. I would probably pass on this one primarily because the pricing is a little confusing. If you scroll down you'll note that $5 buys you 50 words of a press release. The big PR companies like MarketWired, PRWeb and PRNewswire have a minimum word requirement before they'll even publish a press release. I always order PR's of at least 400 words and with this gig you would end up paying $40. Professional high quality writers can be had for less. Click here to check out Allie's PR service.