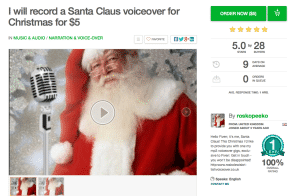 It's almost Christmas! At least in my house it is. We begin the Christmas season earlier and earlier each year. We've been listening to Christmas music for about a week and got out the nutcrackers for the kids yesterday. Since it's obviously not too early to celebrate, let's talk Santa Claus voiceovers.
Here is the gig. What you get for $5 is a recording from Santa Claus. There are other gigs that feature Santa Claus calling you or the kids on the phone, here is a big list of Santa Claus phone calls.
What I like about this gig is the ability to set it up before hand. If you have kids over the age of 6 years old, they're likely to be able to know it's your voice. For only $5 you can get a voice they won't recognize, that's a bargain. Your neighbor is likely to want more than $5.
Let the Christmas season begin!