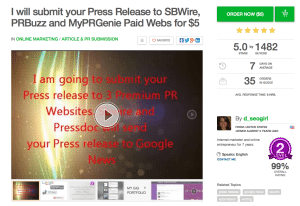 I'm placing my order as we speak for this service. Each of these platforms costs significantly more than $5 so I'm expecting great things! I do a lot of press releases with PRWeb.com and PRNewswire.com. Both have recently fallen in terms of quality so I'm always on the lookout for press release websites that syndicate and get into Google news and even the organic Google SERPs.
d_seogirl says the PR will be submitted to SBWire, PR Buzz and MyPRGenie. SBWire and MyPRGenie and decent sites, definitely second tier, but you get what you pay for.
This press release service from d_seogirl might just be the right press release service! I'll report back with my findings as soon as I get the report back. There are 35 orders in the queue so I'm expecting to get my report next week.
Update: Order Received
Order was completed exactly as expected. The distribution was what you typically get for $5. Very little syndication, but the PR's were live on all three sites. Definitely would order again and recommend this service!